Click on all images to enlarge and read
Following Brendan's death there was obviously a period of time that we had to take to get over losing our son. This was helped greatly with the birth of our daughter Shelley in December 1975 but there were reminder's such as some TV programmes about hospitals that featured similar sounds etc. that were heard and seen in the Special Care Baby Unit that brought the memories back over the years. But in time even these memories disappeared until after 26 years the bad memories of the birth and death of Brendan had gone and we had now fully come to terms with that episode in our lives. That is, until the newspaper article (below) was published and the NIGHTMARE resurrected itself. Brendan was not forgotten though, and we have always visited his grave regularly over the years
On December 8, 1999 there was an article by one of the South Wales Argus reporters named Andy Rutherford. This article concerned the hospitals under the Gwent Healthcare NHS Trust run by the Chief Executive, Mr Martin P Turner.
The headlines in this article were in one inch high letter's and said, 'Pledge to Parents' and it went on to say that the Gwent Healthcare NHS Trust had NEVER performed post mortems on children and only on adults at the request of a coroner. The purpose of the article being published was that at this time there were two scandals in the UK relating to the Alder Hey Hospital in Liverpool and the Bristol Royal Infirmary in Bristol who removed organs, tissue samples and other body parts from hundreds, if not thousands of children without their parents knowledge or permission and stored them at the hospitals. Gwent Healthcare NHS Trust went to the local press not to allay the fears of parents in Gwent who had lost their children and post mortems were carried out on but to pre-empt any parent making enquires about their children in light of the scandals at the other hospitals.
I telephoned Mr Rutherford at the South Wales Argus asked him about the previous evening's article in the paper. I told Mr Rutherford that I had signed a post mortem form in 1974 and that a post mortem had been carried out on my son which contradicted the information in his article. Mr Rutherford said that he would contact the Trust and ask them about the information I had told him and I was under the impression that he would let me know the results. I heard no more from him.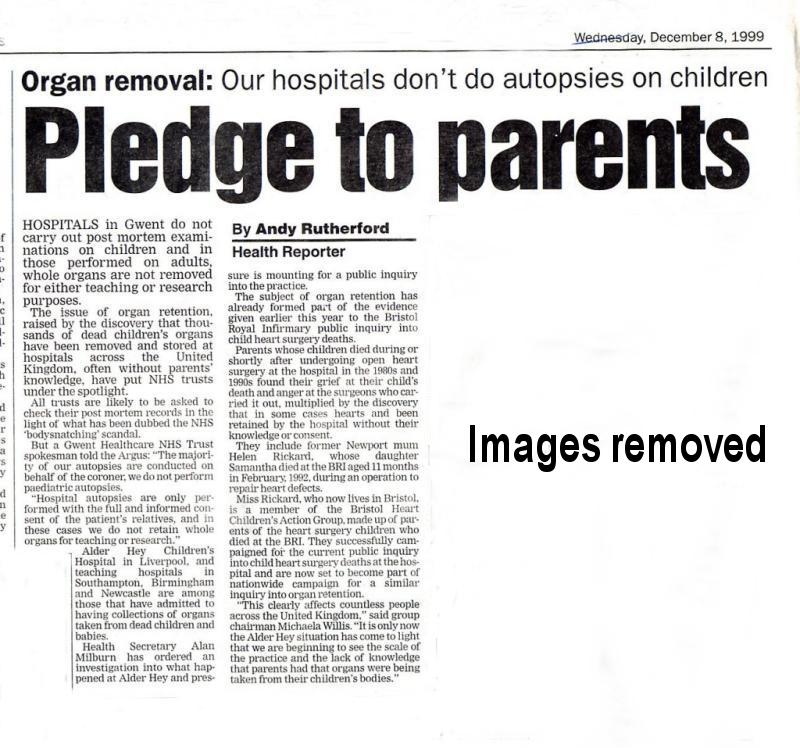 South Wales Argus, Wednesday December 8, 1999
Knowing that I had signed a post mortem form, under considerable duress from the doctor, for my son Brendan, I wrote to the NHS Trust and told them that I had signed a post mortem form in 1974 and asked them that I wanted assurances from them that any body parts that were removed during the post mortem were returned (not retuned as in my letter) to his body for subsequent burial.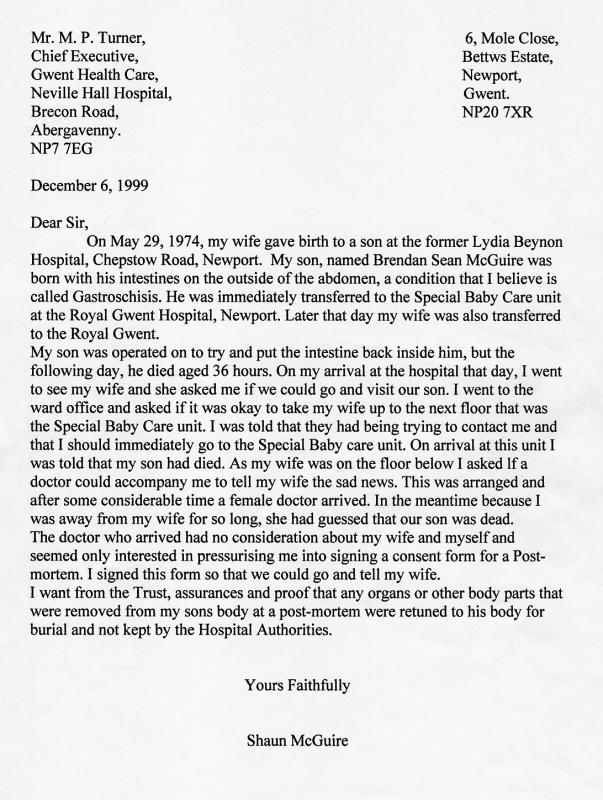 Note... The date I put on this letter is wrong, it should have been December 9, 1999
I waited for their reply and I waited for their reply. A month later, I wrote again on January 11, 2000 and re-enclosed my original letter and said that I would send copies of my letters to both the local and national newspapers as well as seeking legal advice. This prompted a number of telephone call's from the NHS Trust, nothing in writing and after a period of time and through another telephone call, a meeting was arranged at my home a week or so later with a Trust representative named Mr Keith Hamilton.
Letter, January 11, 2000
Mr Hamilton sat in my living room and faced both myself and my wife and proceeded to tell us that he had done a thorough search of the Trusts records and found no evidence of a post mortem being performed on our son Brendan. He went further, looking us straight in the eye and said that the Gwent Healthcare NHS Trust had no teaching hospitals or similar units and therefore had no need to do post mortems and categorically stated to us that Gwent Healthcare NHS Trust had NEVER performed post mortems on children, had NEVER performed a post mortem on our son Brendan and therefore could NOT possibly hold any body parts of him.
Mortuary report dated May 30, 1974 supplied after they admitted that they DID hold a post mortem and were holding body parts
He supplied us with some poor copies of my wife's medical records that he had found and also only one record of Brendan during his short period with them. It was a copy of his Outpatients card that gave his name on the front and on the rear stated "admitted 29.5.74, 'discharged, died 30.5.1974" That is the only record of my son that this health authority have, so they say, even though he went through a major operation to try and correct his intestinal problem.
Brendan's outpatient's card, the only record the hospital authorities say that they have of one of their patients that they performed a major operation on and subsequently died in their care.
I asked Mr Hamilton a simple question, " If Gwent NHS Trust has never performed post mortems on children other than at the request of a coroner, why was I asked to sign a post mortem form in 1974?". Mr Hamilton was unable to answer the question and I repeated it a number of times during the meeting and on each occasion he was unable to answer it. I then told Mr Hamilton that I did not believe one word he was saying to me and this can be seen reflected in the letter that followed this meeting from the Chief Executive of the NHS Trust, Mr Martin Turner.
Mr Hamilton left our home and when the truth finally came out a couple of years later my wife told me that she had believed him!
I received my first letter from Mr Martin Turner and the Gwent Healthcare NHS Trust dated January 31, 2000. In this letter it states that "we have comprehensive reports of post mortems carried out at that time, but there is no report of a hospital post mortem carried out on Brendan. I can only conclude that a post mortem did not take place"
This is obviously a blatant lie by Mr Martin Turner, the first place to check if a post mortem was carried out would be the place where they ARE carried out, the mortuary and as can be seen from one of the comprehensive documents above, a post mortem was carried out and Martin Turner knew it before he wrote that letter to me.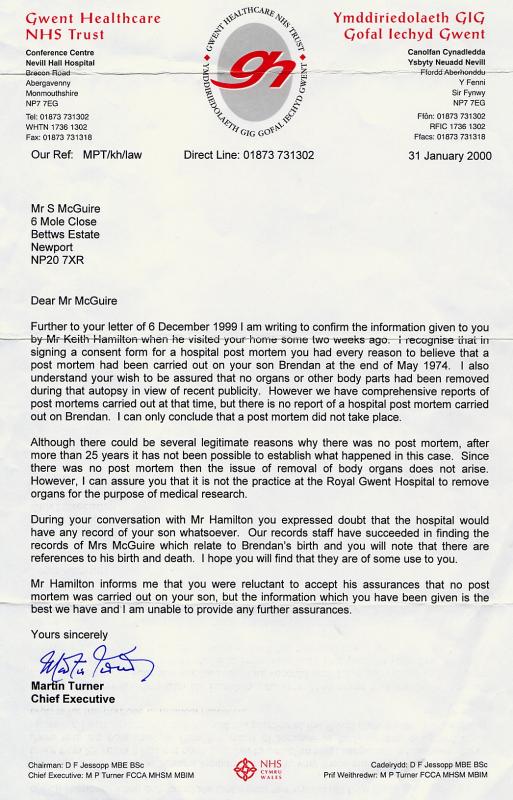 Letter from Martin Turner, Chief Executive dated January 31, 2000
The letter continues, "During your conversation with Mr Hamilton you expressed doubt that the hospital would have any records of your son whatsoever" They didn't, just his outpatients card saying that he was admitted and discharged, dead.
"Mr Hamilton informs me that you were reluctant to accept his assurances that no post mortem was carried out on your son, but the information which you have been given is the best we have and I am unable to provide any further assurances" What about the mortuary report? and he is indirectly saying to me, "stick that in your pipe and smoke it".
I knew they were lying from the beginning and told them so. They knew they were lying and if they were not, then they would have continued searching for more information to allay my fears. They did not because they knew the truth.
And so this part of my story comes to end. I was unable to prove that a post mortem had been carried out on my son Brendan because Mr Martin Turner and the Gwent Healthcare NHS Trust held all the cards. Without any documentation which they held, I would never find the truth.