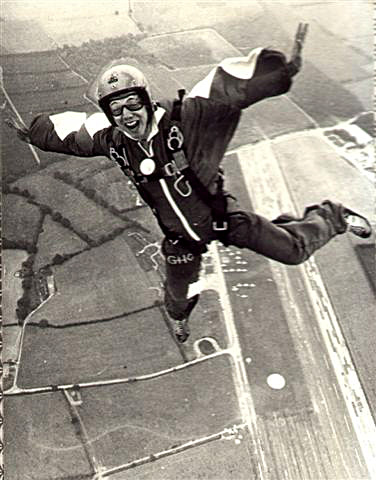 In the pit Team Siouxsie & Banshees
Siouxsie and the Banshees were: Sue Sengelow, Dave Jones & Rich Howell (left), seen here at the pit
___________________
__________________
Huw Owen Simon Nicholls on the wire
I am told that the photo "on the wire" was one of a series showing the person up on the pole after having landed being dragged by the wind until the canopy hit the pole. The canopy then proceeded to climb the pole and went up over the wires and dragged the person up into the situation as can been seen. A very unusual and freaky happening!
HPC RAPA trip
Team tactics discussion and Andy Mann, Dreams of Glory
Also in the above photo's are Mac with Tony Makepeace behind him, Mark Jones, Dawn, Andy Mann in background and ???
Mark Owens : accuracy round, scores a DC - All Aboard : The HPC 4 way team Huw Parry, Mark Owens, Mark Jones, & Trevor Warrenger emplane onto the Jolly Green Giant.
___________________
SWANSEA DAKOTA BOOGIE 1982
Shobdon member's dirt dive as Paul Kibblewhite walks past
Shobdon member's load Douglas Dakota C47 G-APML
I would welcome any information or photo's that anyone could send to me about the club during the years that it operated.
Have you got a story about the club or any of its members? to tell? Please send them to me, although in some cases I may have to edit them a bit!