William Gillard
William was born in 1879 at the age of 29, he married Frances Morgan, one of a total of 23 children born to Penry and Elizabeth Morgan of Upper Cwmbran, although only 16 children survived.
William and Frances were married at Newport Registry Office April 21, 1908.
Frances Gillard (nee Morgan)
They had 5 children, Anne, Jack, Gwynneth, Muriel and Elizabeth. These children eventually married Jack married May Combes, Gwynneth married Thomas McGuire, Anne married Vivian (John) McGuire (Toms half-brother), Muriel married Harry Powell and Elizabeth (Bet) married Fred Phillips.
Jack, Gwyn and Anne (1911) Muriel Gwyn, Bet, Jack and Anne

On December 20, 1926, Frances died at the Royal Gwent Hospital, Newport from (a) Toxaemia of Pregnancy and (b) Cardiac failure. She is buried in the Cwmbran Cemetery
William and his second wife, Elizabeth
William later married Elizabeth Roberts. William's occupation at the time of Frances's death was as a coal miner and in later years he worked at an Aluminium works in Newport.
William died January 26, 1961. He died from (a) Myocardial Degeneration (b) Chronic Bronchitis (c) Chronic Cholecyctitis. He was cremated.
His death was registered by his son Jack. At the time of his death, he was living at 62, Wharf Road, Newport, Mon.
His ashes are buried in the Garden of Remembrance at the Gwent Crematorium, Croesyceiliog. Mon. in Plot 12.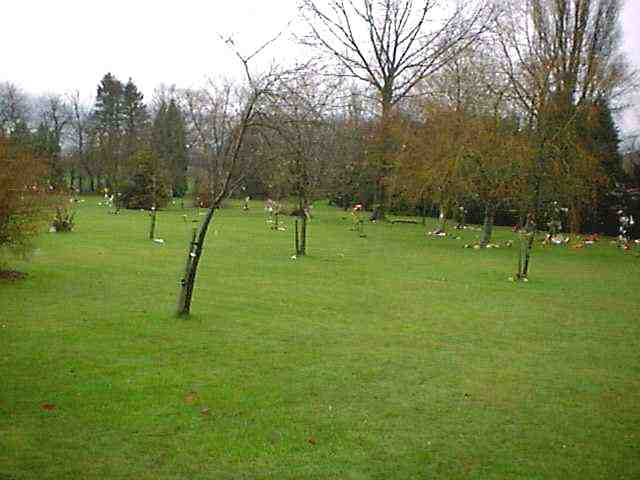 This is plot 12 where the ashes of William Gillard are buried. Each plot is marked by 4 numbered tree's and the photo above is taken across the diagonal of the plot.