PO. Arthur Marcus Fitzgerald, RAF(VR) 148128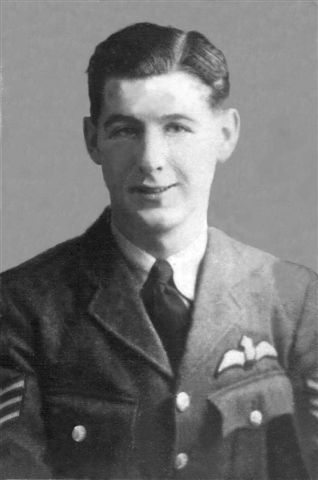 Web site..... http://www.lancastered627.bravehost.com
Arthur Marcus Fitzgerald was born on February 13, 1923 at Newport, Monmouthshire, UK. His parents were Gerald Fitzgerald and Harriet (nee McGuire). He was one of three brothers, the others being Donald and Albert. Before joining the RAF, he worked as a clerk in Newport.
He joined the RAF on April 4, 1941 and was posted to the Oxford Reserve. He continued his flying training through-out 1941 and in 1942 was sent for further training to Canada and the USA. While in North America he trained at Turner Field, Carleston Field and at the Advanced Flying school at Gunter Field. He returned to the UK to complete his training and finally on June 8, 1943 he was posted to 207 Squadron, based at Langar airfield, Nottinghamshire.
207 Squadron Motto.... Always Prepared
Arthur flew his first op on June 12/13, 1943 on a raid to bomb the town of Bochum. Altogether he completed twelve "Operations" including the famous raid on August 17/18, 1943 to bomb Peenemunde, the V1 and V2 rocket research establishment. Between July and August 1943, he was promoted to Pilot Officer.
His thirteenth raid took place on August 27/28 1943 and was an op to bomb the city of Nuremberg. Arthur failed to return from this op and he, along with the other six crew members, perished when their aircraft, Lancaster, ED627, EM-N of 207 Squadron was shot down near the town of Schwäbisch Hall, Germany. Another aircraft of the same squadron, EM-V was also shot down at the same time. This crew also lost their lives.
Arthur's op's took him and his crew on raids, attacking the towns and cities of Bochum, Oberhausen, Mulheim, Wuppertal, Cologne, Mannheim, Peenemunde, Berlin, Nuremberg and in Italy, Turin and Milan.
Click on images.
Arthur, Harriet and Donald Arthur, Gerald, Donald, Albert and Harriet
For further information about Arthur and his crew click on the link below.
http://www.lancastered627.shaunmcguire.co.uk
Visit the 207 Squadron Web site by clicking the link below
_______________